Apple Cider Vinegar Cures: The Science-Backed Health Benefits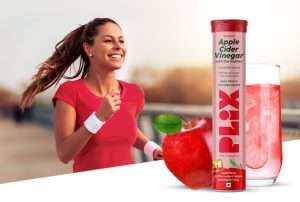 Do you have friends who swear by the apple cider vinegar cures? Or maybe social media is trying to tell you about all the apple cider vinegar benefits. Well, whatever your source is, there are science-backed health benefits of drinking apple cider vinegar or taking its supplements. If you are sceptical and wondering if is vinegar good for your health, don't be. Because we are here with all the details below. Just keep reading to know more.
Weight Loss
Advocates of ACV and several studies show that incorporating the vinegar with or before a meal can help you feel fuller soon and hence, you tend to consume fewer calories. This helps you reach your goal weight faster and effortlessly. In a study, the participants were split into two groups. Both groups consumed fewer calories over the period of 12 weeks. However, one group was also given 30 millilitres of apple cider vinegar every day. After the study was completed, it was seen that the group that consumed ACV had significantly lost more weight and also, they were able to lose visceral fat, which is the fat that's present around your organs.
Reduces Blood Sugar
According to a review that was published in Diabetes Research & Clinical Practice, it was seen that consuming apple cider vinegar with meals was able to lower the levels of insulin. Now, insulin is a hormone of the body that is essential to use sugar in the body. However, in diabetes, insulin is not able to do its job and the levels also go up. Taking apple cider vinegar with your meal or post-meal can be useful in curbing the levels of insulin. The acetic acid present in vinegar can also help you block certain enzymes making it easier to keep blood sugar levels in check.
Combats High Cholesterol
Apple cider vinegar is great for your overall health and helps reduce bad cholesterol levels. In one meta-analysis that was conducted in June 2021, the participants were those who were suffering from type 2 diabetes. They were each given 15 millilitres of ACV every day. It was seen that their cholesterol levels went down substantially.
Inflammation
There are certain conditions, such as rheumatoid arthritis (RA), multiple sclerosis (MS), and ankylosing spondylitis (AS), which have no cure but you can manage the symptoms to a certain extent. Some studies suggest that taking apple cider vinegar may be useful in managing inflammatory symptoms in such cases.
Overall Health
Apple cider vinegar with mother is full of healthy substances that elevate your overall well-being. It contains;
Magnesium

Iron

Phosphorus

Manganese

amino acids

Antioxidants
All these ingredients come together to offer you the best benefits. Also, ACV is a fermented product and rich in good bacteria. It also contains protein and potassium. So, when you start taking ACV regularly, you will see a change in your overall health and you start feeling more energetic and happier. It also ensures you enjoy healthy digestion and promotes good gut health.
If you want these benefits without having to drink sour vinegar every day, you can opt for Plix Life's Apple Cider Vinegar Effervescent. This natural and vegan product brings you all the goodness of apple cider vinegar and other essential vitamins in delicious apple flavour. To create your ACV, just drop one tablet in a glass of water and let it fizz. Now your super tasty ACV drink is ready. All you need is 1 tablet every day for all the benefits of apple cider vinegar. Some of the apple cider vinegar uses it offers are;
Keeps you fit

Curbs your hunger

Keep you fuller

Give you more energy

Enhances your metabolism

Prevents mood swings

Enhances brain function

Good digestion
Made with the goodness of Himalayan apples, pomegranate extracts, and vitamins, such as B6 and B12, this is all you need for a healthier you! And if you are worried about added sugar, don't be! It comes with a zero-calorie sweetener. So, this is a product that tastes good and has no adverse effects and only benefits.
Now you know all the science-backed apple cider vinegar cures. Apple cider vinegar can be good for your overall health, but it can also lead to side effects such as the corrosion of food pipes or teeth. But if you want to experience all the ACV benefits without any side effects, you can try Plix Life's Apple Cider Vinegar Effervescent.
FAQs
1. Can apple cider vinegar reduce bloating?
Yes, if you are someone who is suffering from a bloated stomach, one of the apple cider vinegar cures is that it curbs bloating. How? Well, ACV is known to aid digestion and hence, the acid levels of the stomach go up. This also helps keep bloating under control.
2. Is ACV harmful to the kidneys or liver?
No. Apple cider vinegar is beneficial for the liver and kidneys as it detoxes the body and eliminates all toxins too.
3. Can it also help with severe gas issues?
Yes, apple cider vinegar can help curb any gas or indigestion because the stomach acid levels go up when you start drinking the vinegar every morning and this also improves your digestion.
4. I am a vegetarian. Can I take the Plix product?
Absolutely! Plix Life's Apple Cider Vinegar Effervescent is a vegan and 100% natural product.
5. How long does it take for the ACV by Plix to show results?
Once you start taking Apple Cider Vinegar Effervescent, you will notice the results in just one month. Here, your metabolism would have elevated and you can burn more calories effortlessly, taking you closer to your weight loss goal.
More Apple Cider Vinegar (ACV) related blogs: