5 Well-Being Nutrition Products That Are Suitable for Summer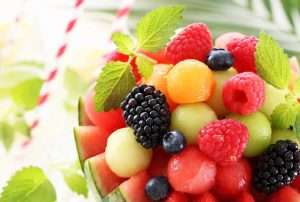 With the heatwave taking over the country, it becomes tremendously important that you take care of yourself, especially during the summers. To make it all the more easier for you, we bring you 5 well-being nutrition products that are suitable for summers. These products can be easily used in your everyday routine and aid your good health. Read ahead to know more.
1. Strength 25G Plant Protein Powder For Post Workout, Antioxidants, Digestive Enzymes, No Added Sugar, Gluten-Free & No Added Preservatives
When it comes to protein powders, Plix has your back. This is one of the best nutritional products for you this summer because it keeps your gut healthy, improves muscle strength, reduces bloating, and enhances your metabolism. The best part is that this protein powder by Plix contains zero sugar and comes in a variety of flavours including chocolate, Mocha, Vanilla Banana and Mango. So, you can use this protein powder to whip cool nutrition shakes that are super beneficial for your health. Try it today to start your fitness journey.
2. PLIX EVOLVE Performance Plant Protein Powder For Muscle Gain And Recovery
Packed with Vitamin B12 Plix Evolve comes with whole food sources, such as Pea protein isolate, cocoa powder, yellow pieces, and sprouted brown rice. Suitable for both men and women, this chocolaty protein drink helps build and repair your muscles. Also infused with natural recovery antioxidants, it helps combat free radicals and promotes immunity. You can also create delectable shakes using this healthy protein powder!
3. Everyday Protein Brain Health- 12g of Plant Protein From Rice, Peas, Gotukola & Brahmi
Plix Life brings you protein powder- Everyday Protein Brain Health- 12g of Plant Protein From Rice, Peas, Gotukola & Brahmi, which aids your health and offers several benefits, such as energy, boosts your immune system, sharpens your mind, and more.
Made of all the important proteins, such as pea and rice, this vegan protein powder is superb for your health. Just one scoop of the powder and you are good to go. This is one of the nutrition products you can use this summer to keep up your strength and energy. It comes in a delectable smooth chocolate flavour too for a yummy taste!
4. PLIX Everyday Protein Brain Health Powder
This wonderful protein powder not only improves your muscle health but also brain health. When you start taking this wondrous protein powder regularly it helps keep you alert and comes power-packed with all the necessary proteins to help you kickstart your day. Instead of caffeine every morning, switch to this yummy drink.
5. PLIX Lean Fudge Bar, Chocolate Fudge Flavour Pack of 6
During summers, you sometimes end up feeling less energetic because of the heat. So, protein is an important ingredient that you must consume. To make it easier, Plix brings you a lean fudge bar, which is a protein bar that comes in a chocolaty flavour. This yummy bar is power-packed with ingredients like ACV that can help you boost your metabolism and reduce cravings. Try it today!
So, which one is your favourite?
Don't forget to place your order today!