8 Amazing Plant-Based Protein Sources You've Never Heard Of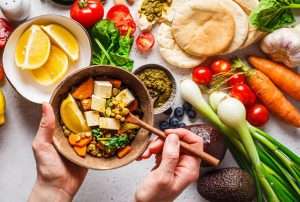 One of the things that stop people from embracing a vegan lifestyle or even becoming a vegetarian is the myth that there are no plant-based protein sources. In the past, vegetarians have adopted a meat-eating lifestyle just so they can include chicken and other sources of protein into their diet. This adoption of meat for protein is commonly seen among bodybuilders and avid gym-goers. However, it is a myth that plant-based sources are inadequate.
The truth is that several plant-protein sources can more than sufficiently fulfill daily requirements. Today, we are here to tell you all about high-protein foods for vegetarians and even vegans. Keep reading to learn more.
What are Plant Protein Sources?
Plant protein sources are nothing but sources of protein that are derived from plants. These sources are devoid of any meat and are also suitable for vegans and vegetarians. They include tofu, soya, tempeh, seitan, nuts, seeds, and split peas. These are not only highly nutritious but also great protein sources for vegetarians. A big advantage offered by plant-based protein sources is that they fulfill the fiber needs of your body. For instance, while soya and green beans are a great source of protein, they are also high in fiber.
Why does your body need Protein?
Protein is one of the most vital nutrients that our body needs. It helps with the growth, maintenance, and repair of our bodies. Consuming the right amounts of protein every day can help keep your body healthy. Protein is also known as the building block of the body.
What Is combining Protein?
When it comes to vegetarian protein sources, it is important to combine several varieties, such as lentils, veggies, seeds, and more to ensure you receive a complete protein source. So, for example, make sure you have some rice, veggies, soy or tofu together to make them a complete meal and protein source,
8 Amazing Plant-Based Vegan Sources Of Protein
Now, let's take a look at the best vegan protein sources:
Soy
One of the best highest protein sources for vegetarians is soy and soy-based products, such as tofu. For instance:
½ cup of soy-based tofu has about 10 grams of protein

½ cup edamame beans contain about 8.5 grams of protein

½ cup tempeh contains about 15 grams of protein
One of the major advantages of tofu is it almost tastes like paneer and is almost tasteless. Therefore, it is extremely versatile. You can create tofu dishes as per your taste preferences. You can also easily add tofu to soups and sandwiches.
Lentils
Both red and green lentils are full of protein, fiber, iron, potassium, and more. About ½ cup of cooked lentils contains about 9 grams of protein. You can make dals, lentil-based soups and so much more. They are a great addition to your lunch and dinners.
Chickpeas
½ cup of cooked chickpeas are high in protein and contain about 7.25 grams of protein. One of the advantages is that you can eat chickpeas both cold and hot. Use them in chats, hummus, curry, and so much more, the options are unlimited! They are also extremely easy to cook and don't take too much effort.
Peanuts and Almonds
Nuts in general are good sources of protein. However, almonds and peanuts take the cake. Peanuts are high in protein and also contain healthy fats, which are known to improve heart health. However, you must restrict yourself to just ½ a cup every day, which contains about 20.5 grams of protein. You can also opt for peanut butter for the same. Even ½ cup of almonds is about 16.5 grams of protein and is also a great source of vitamin E, which is essential for healthy hair and skin.
Chia and hemp seeds
Again, like nuts, seeds are an excellent source of protein diet for vegetarians. They are also low-cal, which means if you are trying to lose weight these can be ideal. About 2 tablespoons of chia seeds contain 2 grams of protein. You can easily add chia seeds to your smoothies and salads. And when it comes to hemp seeds, they have 5 grams of protein per tablespoon.
Green peas and rice
Rice and beans when eaten together are a complete source of protein, with about 7 grams of protein per cup. This combination makes a classic meal that fills the stomach.
Potatoes
A vegetable most people avoid as they believe it leads to weight gain, potatoes are a great source of protein and rich in vitamin C and potassium. One serving of potato is about 8 grams of protein.
Seitan
This is a complete protein, which is created by mixing spices and wheat gluten. However, this is something people who are allergic to gluten must completely avoid. But for others, it is a great source of protein and also a fantastic meat substitute.
When it comes to these protein sources, It takes a lot of hard work to include a variety of them in your daily diet. However, there is a solution which is Plix Life Strength 25 grams.
Strength 25 grams is a 100% natural and vegan product that offers complete protein in just one scoop. This scoop provides you with the required amount of protein that you need every day.
Made with plant protein, papain and bromelain enzymes, grape seed extract, and lycopene, this protein powder doesn't have any added sugar.
When you start taking the protein powder, it renews your metabolism and helps reduce bloating in just one month. And by the third month, it leads to visible muscle gain. So, if you are someone who is trying to lose weight and also gain muscle mass. This is the best source of plant-based protein for you.
Now you know the best sources of vegan protein. You also know that as a vegan or a vegetarian, you don't have to worry about not having enough protein options. With Plix Life Strength 25 grams you can get what you need. Just a scoop of it every day and you are good to go. It comes in four delicious flavours, which include mango, chocolate, vanilla banana, and cafe mocha.
FAQs
1. Is plant-based protein beneficial for your skin?
Yes, plant-based protein can be excellent for your skin and nails because the components found in plant protein can help maintain the elasticity of the skin.
2. How should I take Plix protein?
It is super easy to consume Plix Life Strength 25 grams. You can take it as it is with a glass of water since they come in four delicious flavours as mentioned above or you can mix it with your smoothies, yoghurt, and more.
3. Does it have any side effects?
No, it doesn't come with any side effects as it is a natural and vegan product.
4. Is it complete protein?
Yes, Plix Life Strength 25 grams is a complete protein.
5. When should you take Plix protein?
You must take it after your workout or in between your meals. However, if you miss it, you must take it before bedtime.