5 Simple Ways to Stop Hair Fall for Men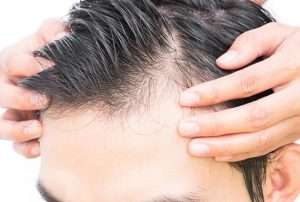 While hair loss in men has become an increasingly common occurrence, it can still shatter one's confidence. Common causes for hair loss include genetics, the environment, and side effects of COVID and other diseases. Male pattern baldness, which accounts for more than 95% of hair loss in men is hereditary. It is known to affect almost 50% of all men over the age of 50. Factors such as stress can also contribute to hair loss.
However, it is not all bad news. With the right hair serum for men, this condition can be combatted to a great extent. Today we will be discussing how to use hair serum for men, and other simple ways to stop hair fall in men.
So without further ado, let's jump into how to use a hair serum and 5 simple ways to stop hair fall in men.
Is hair serum good for men's hair?
Yes, hair serum uses and benefits are aplenty for men just as they are for women. However, the key here is to use the best hair serum for men. Some of the many benefits of hair serum for men are:
It strengthens the Hair
Using hair serum for men is an excellent way to strengthen and shield your hair from environmental damage, such as UV rays, chemicals, and direct heat. Additionally, it deposits all the necessary nutrients and fats inside hair strands to offer them the right nutrition.
It tames Frizz
If you are someone who sports an undesirable frizz that makes your hair unmanageable, hair serum for men can come in handy. With the help of the best hair serum for men, you can not only manage your mane but also keep it well-tamed and shiny.
It adds Shine
Lustrous hair is something we all desire, regardless of our gender. With the use of serum for men, your hair will gleam with a lustrous shine. It is also able to combat any damage caused by excessive hair colouring.
It makes your Hair Soft
With the regular nutrition and hydration that a serum provides, your hair becomes easy to handle and also becomes oh-so-soft. In fact, unruly or unmanageable hair is actually a sign of dehydration. Using a hair serum for men, therefore, makes the hair well hydrated and soft.
It provides the necessary Moisture
If you are someone battling very dry hair that tends to break easily, a hair serum can do you wonders. As it adds moisture it tackles the dryness of your hair keeping it well moisturised.
It promotes Hair Growth
Finally, we come to the main advantage of using a serum for men. There are Hair serums available that are designed to help activate hair growth. So, if you have been losing a lot of hair, these types of growth hair serums can be your saviour.
Which hair serum is best for men's hair?
When it comes to the best hair serum for men, you cannot go wrong with Plix Life Men's Hair Growth Serum. Made with the best ingredients that include 3% redensyl, 4% anagain, and 3% baicapil, it helps boost your hair growth. Some of the benefits it offers are:
Accelerated Hair Growth
When you start using Plix's hair serum regularly, it helps accelerate the natural hair growth cycle by stimulating the hair stem cells. The redensyl present in the serum acts as a switch for awakening the stem cells and activates them to accelerate hair growth.
Dense Hair Becomes A Possibility
Today, there are a variety of factors that affect hair growth and these include stress, hormonal factors, poor hair hygiene, and more. When you start using the serum regularly, you will see an immediate improvement in your hair growth cycle ensuring you achieve thicker, stronger, and longer hair almost effortlessly.
Full Scalp Coverage
Who doesn't want full scalp coverage? When you sport dense lustrous hair? Well, it won't be just a dream with Plix Life Men's Hair Growth Serum. Using the serum regularly elevates your scalp blood circulation and leads to excellent hair growth. Therefore, it leads to complete scalp coverage.
Reduces Hair Thinning
You don't have to wait for absolute hair loss for you to apply the serum. If you notice any signs of hair loss, you can immediately start applying the serum to stop follicle shrinking. This works because the hair serum directly tackles the molecule that causes hair thinning.
Strong Hair
Finally, let's not forget the need of the hour, which is strong hair. Now, we know nobody likes hair shedding and breaking everywhere due to hair fall and breakage. Using Plix Life Men's Hair Growth Serum helps you achieve stronger and longer hair quickly.
You will be able to notice before and after hair serum differences in just three months.
Month One
In just the first month, 9,500 new hair per month will grow. Here, redensyl stimulates the new hair growth cycle.
Month Two
The potent serum is hard at work and in month two, you will notice the serum can reactivate the hair stem cell. Now, you will notice fuller and denser hair, better than ever before.
Month Three
By now, you will be able to enjoy denser hair, without having to go through any loss. The follicle-shrinking DTH will go down and you will also notice improved hair structure and increased hair density.
Can men apply hair serum daily?
Yes, if you are using Plix Life Men's Hair Growth Serum you can apply it every day. How to apply serum to hair? Just use the dropper that's given and apply the serum all over the scalp. Massage it gently with your fingertips. After you are done, make sure you wash your hands well. Let's also talk about a few do's and don'ts of hair serum.
Know your hair type and always first understand the reason for hair fall.

Never overapply the hair serum. While we tend to feel that more means better, it can backfire. Just apply the amount you need to cover the scalp and not a drop more.

Follow the instructions as per the serum you choose. Every brand is different. Therefore, always read the instruction labels carefully.

Always learn about any side effects too before you apply any hair care product.

Some serums need an application to the roots while some are just for the hair. So read the instructions carefully before you indulge.

Choose the right serum for your needs.
What does hair serum do in boys?
Each hair serum comes with different uses. But yes, boys can apply hair serum. However, it also depends on the type of serum. Therefore, it is always best to check the instructions to check the age group it is suitable for. However, if the job of the serum is just to manage the hair, then you should never apply it to the roots. You should just use it on the strands to give it shine and nourishment.
5 Ways To Stop Hair Fall In Men
Today, you will find hair serums for a plethora of functions, from stopping hair fall to promoting hair growth. Therefore, using the right serum will help stop hair fall for men.
While hair oils can be great to provide nourishment to the hair, it is important to first see if it suits you. In some, regular use of hair oil can lead to dandruff.
Applying too much heat or colour to the hair can cause damage in the long run. Therefore, it is important to ensure that you don't overstyle your hair. Instead, give it the nourishment it needs to prevent any damage.
Regularly massaging the scalp with your fingertips helps promote good blood circulation and diminishes follicle shrinkage.
Choose a Healthy Lifestyle
One of the reasons why you may experience hair fall is because of bad lifestyle choices, such as smoking. Therefore, when you quit the habit, you will notice an improvement in hair fall.
If you are wondering, is hair serum good for hair? The answer is yes, as long as you buy the right brand for the right requirement. Hair serum for men comes with different functions and not every serum offers hair growth. If you are experiencing any hair thinning or hair loss, you can start using Plix Life Men's Hair Growth Serum to combat the same!
FAQs
1. Why should I use Plix hair serum?
It doesn't come with any side effects

It helps you rid of dandruff and dry scalp

The effects are visible in a month and long-lasting

Free from any harmful chemicals

It is a dermatologically tested
2. Does it contain any drugs?
No, all Plix Life Men's Hair Growth Serums are made of 100% natural and drug-free ingredients that are backed by scientific data. It truly improves your overall hair health.
3. Can it be used even if I have had a hair transplant?
Yes, this serum can be used on individuals who have gone through a hair transplant. However, you must wait until all wounds are healed. Also, it is always best to speak with your doctor before you apply the serum.
4. Will the results stop if you stop using Plix serum?
You must use the serum for at least 6 months to see the best results. However, if you stop the serum, it won't harm you in any way. Once you stop the serum your hair growth may stop as the hair growth cycle goes back to the initial one.
5. Will it make my hair wet and greasy?
No, using Plix Life Men's Hair Growth Serum doesn't make your hair wet and greasy. It is completely oil-free, so you don't have to worry before applying it every night. But you must use the serum on a clean and dry scalp.
More men's Hair care-related articles you may like: