5 Proven Ashwagandha Health Benefits for Men & Women
Ashwagandha – the age-old ayurvedic ingredient has been the talk of the town amongst scientists across the globe, who have started studying and proving the efficacy of the miracle herb which has been used in India since 6000 BC.
Ashwagandha, also known as Indian Ginseng is one of Ayurveda's most prominent nontoxic herbs. It is an evergreen shrub with pale flowers that grows in India, the Middle East and parts of Africa. It has a distinct 'horse-like' smell from which it gets its name – Ashwagandha. It has a wide range of health benefits ranging from relaxing the brain, lowering blood pressure to helping sexual health and supporting heart health. An interesting fact about Ashwagandha is that it helps both Men & Women in their sexual health in different ways.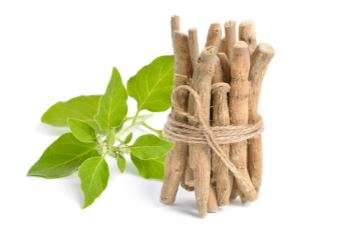 Here is a summary of 5 proven Ashwagandha health benefits for Men and Women backed by science:
1. Relieves stress and anxiety for Both
Ashwagandha is most popular for its stress and anxiety relieving characteristics. Backed by multiple studies where participants' stress and anxiety dropped significantly. Ashwagandha also aids in improving sleep patterns. Ashwagandha reduces cortisol, a stress hormone which causes wear and tear in the body. Therefore, it is significantly helpful for those suffering from anxiety and chronic stress. It even helps with depression
2. Maintains blood sugar and fat levels for Both
Ashwagandha has been proven to be helpful in reducing blood glucose levels and triglycerides in the body. Adding the ingredient to our diets was found to increase insulin secretion and sensitivity therefore lowering blood sugar levels.
3. Increases muscle size and size and strength for Men
It improves speed, strength and muscle development. It also improves muscle power. In an experiment performed on male participants, men who received Ashwagandha saw significantly larger gains than those who did not.
4. Improves Sexual Functionality in Women
Ashwagandha is proven to improve arousal, lubrication, orgasm and self-satisfaction in women. It acts as a natural aphrodisiac for both the sexes.
5. Boosts Fertility and Testosterone in Men
Ashwagandha improves sperm quality by rebalancing hormonal levels in men. It provenly  increases testosterone levels in men. As stress affects fertility in men, men with high stress have low testosterone and a low sperm count. As Ashwagandha brings down stress levels there is a strong correlation between the consumption of Ashwagandha and an improvement in testosterone production and sperm health in men.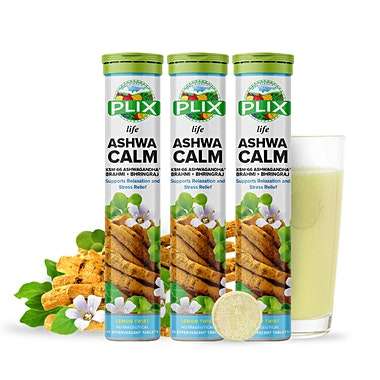 Ashwagandha roots and berries can be consumed for their medicinal properties directly, but a more effective and efficient way to consume them will be in the form of supplements –  Plix's Ashwagandha Effervescent Tablets  being the first of its kind effervescent for stress relief and improved sleep. Plix Ashwagandha Supplement in the form of the effervescent has KSM-66 Ashwagandha, which is the highest concentration of Ashwagandha. This ingredient is clinically proven to help you stay stress free and build strength. A natural aphrodisiac, it tackles stress hormones naturally and improves sleep quality. It increases testosterone levels in men, boosting sperm motility and fertility and boosts sexual drives in women. Ashwagandha proven to significantly improve sexual health. Ashwagandha also aids muscle recovery and strengthens muscles. The combination of Ashwa, Brahmi, Bhringraj and Vitamin D3 extract improve brain function holistically.