7 best fat-burning drinks for women's health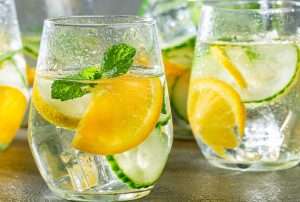 When it comes to losing weight as a woman, sometimes it feels like you need all the help you can get. What if we tell you there are healthy weight loss drinks which can help?
When you start adding these fat-burning drinks to your everyday diet along with a healthy lifestyle, the process of losing weight accelerates. Weight loss drinks help enhance your metabolism and fullness while decreasing hunger, which makes sure you lose weight sooner than later.
So without further ado, let's take a look at the best fat drinks for women's health.
One of the best drinks to boost metabolism has to be green tea. It is available in a variety of flavours, such as green tea with basil, ginger, and more to ensure the cup of tea tastes better and you are able to enjoy every sip. Green tea is a rich source of antioxidants and various other powerful nutrients that are required for your overall well-being. If you are someone who is trying to lose weight, green tea can be even more beneficial for you.
In one study, it was seen that 14 people regularly consumed high-concentrated green tea for 12 weeks straight and lost up to 3.5 kgs. Matcha green tea is also exceptional when it comes to weight loss. Also, drinking green tea regularly is known to lower your blood pressure and reduce the risks of dangerous illnesses, such as cancer and diabetes.
Coffee is an extremely popular drink that is usually consumed to help give you a boost of energy. But it can also be a great fat-burning drink. Why? Caffeine, is an excellent stimulant that can lead to weight loss and increase your metabolism. In one study, 33 overweight adults participated. They drank 6 mg of caffeine per kilogram of their body weight. This made them consume a low amount of calories, increased metabolism, and also led to fat burning. Also, coffee can be great when it comes to helping you maintain weight loss.
Apple cider vinegar has been used in salads and dressings for ages. However, it can be exceptionally beneficial to stimulate weight loss, reduce your sugar levels, enhance metabolism, burn fat, and decrease your appetite. In one study, 144 obese adults participated where they consumed 30 ml of ACV per day and this substantially decreased their weight. However, you must not overdo it as it can erode your teeth.
In India, ginger is a very popular spice and is used in curries, pulao, tea and so much more. It is also used as a tea to treat nausea, colds, and arthritis. One study with rats showed that consuming 5% ginger powder for four weeks had a significant reduction in weight loss and also helped increase the levels of good cholesterol.
In another study with humans, it was seen that 10 people drank 2 grams of ginger powder in hot water for breakfast and this allowed them to feel fuller for longer and also decreased hunger pangs throughout the day.
Another great fat-burning drink is the evergreen high-protein drink. This is because it helps curb your appetite, promote fullness, and hence is useful in helping you shed excess pounds. You can easily make high-protein drinks at home with fruits, veggies, and even natural protein powder. You can make use of bananas, milk, spinach, apples, and more. In one study, it was seen that 90 overweight adults consumed about 56 grams of protein and by 23 weeks they were able to lose almost 5 pounds.
Consuming low-sodium vegetable juice can help you when it comes to cutting down your calories. This drink that burns fat can be very easy to make and doesn't require much effort. Taking vegetable juice also increases your vegetable intake and helps you cut down on carbs.
Just like green tea, black tea is also rich in compounds that stimulate weight loss. One of the reasons why black tea gives you a strong colour is because they undergo more oxidation. It is also high in polyphenols and flavonoids. And polyphenol is a powerful antioxidant that is exceptional in helping you reduce your body weight. In one study, 2,734 women started consuming polyphenol and flavonoid-rich foods, such as black tea and were able to lose a significant amount of weight, along with reducing belly fat.
When you start taking the best drinks for weight loss, it brings you several advantages where it helps boost your metabolism, minimize hunger levels and easily facilitate weight loss. Additionally, these best weight loss drinks also come with antioxidants and powerful compounds that are good for the skin.
But, if you are looking for the best weight loss drink that helps you burn fat then you must try Super Garcinia Cambogia Effervescent. It comes in Pineapple Twist flavour and is extremely easy to use. All you need to do is drop one tablet in a glass of water, let it fizz, and gulp it all down. For better results, you can start taking 2 tablets twice a day and you are good to go.
Plix Life Super Garcinia tablets are made of 100% natural and vegan ingredients that contribute to weight loss. Some of these ingredients include;
Garcinia Extract: The Garcinia extract comes from the exotic Garcinia Cambogia fruit, which is also known as Malabar Tamarind. This is exceptionally useful when it comes to weight loss because it lowers your appetite, ensures your bad cholesterol level goes down and also stops the production of fat cells in the body. So, if you are someone who is looking to lose weight fast but controlling your appetite seems to be the problem then this supplement can help you out.
Ginger extract: Ginger is a staple in most Indian households. It is used as a natural remedy for colds, coughs, indigestion, and more. This wondrous ingredient is also great when it comes to enhancing your metabolism, reducing inflammation, and improving cardiovascular function.
Cinnamon Extract: Cinnamon enables a healthy gut which helps you get rid of all your digestive problems. It is also great to reduce any bloating and helps strengthen your immunity.
Some of the benefits of Garcinia Cambogia include;
It Helps You Shed Extra Weight
The natural Garcinia extracts present in the supplement help keep you in shape always. It increases your metabolism so you are able to easily burn fat and the cinnamon reduces any bloating. So, if weight loss has been a struggle until now, it won't be the same anymore as the powerful Garcinia will help you lose the extra kilos.
Your Metabolism Improves
You must have seen some people who eat anything and everything but never gain even a kilo. This is because they have a strong metabolism. And when you start taking Plix Garcinia supplements, your metabolism is also going to get better and it will also take care of your gut health. In fact, if you have been suffering from any digestive issues, you will enjoy relief from them.
Helps With Hunger Pangs
The Garcinia extracts are great when it comes to keeping you fuller for longer as it releases serotonin and this will block all the hunger pangs.
Burns Fat
Due to diet and lifestyle choices, our body starts storing fat. But the Garcinia extract helps flush it out of the body and blocks the production of any new fat cells.
Energy Levels Go Up
Garcinia helps burn your calories and converts them into energy so you are able to enjoy a more focused and active you.
Strengthens Gut and Lowers Bad Cholesterol
Garcinia is also great when it comes to your cholesterol levels as it lowers bad cholesterol (Triglycerides and LDL Cholesterol) and increases good cholesterol (HDL) in your body. It also keeps your digestion healthy.
FAQs
How long till I see the results?
In just one month of taking Super Garcinia, you will see the results. In the first month, you will notice that you no longer experience any hunger pangs that would usually lead to binge eating and you will also notice that you have started to lose weight.
Can both men and women use it?
Yes, Garcinia Cambogia tablets are suitable for both men and women who want to lose weight, burn fat and reduce food cravings that they experience every now and then.
Is it safe?
Yes, the Garcinia Cambogia supplements by Plix are absolutely safe as they are 100% natural and vegan. However, if you are pregnant, nursing, or suffering from any health condition, consult your doctor first before taking the supplements.
Does it taste bad?
Plix Life's Garcinia supplements come in a fruity pineapple flavour that is refreshing and tastes absolutely delicious.
When should I take the supplements?
You must take the tablets twice a day, once before your breakfast and once before dinner. Make sure you take two tablets every day for at least 3 months for the best results.