Ashwagandha: The hype behind ancient medicinal herb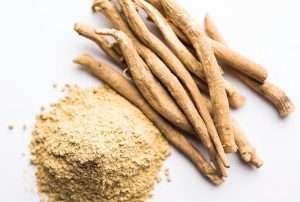 Ashwagandha holds prominence in Ayurveda, as it boosts incredible health benefits. Ashwagandha's unique properties make it an ayurvedic remedy for various parts of our bodies, from our brains to our reproductive organs. If you are seeking alternative medicine to boost your medical and physical health, perhaps Ashwagandha is where your search ends.
Ashwagandha is commonly known as "Indian Ginseng" or "Winter Cherry". It enhances physical strength, calms the mind, boosts levels of concentration and so much more!
Today, the herb used in Ayurveda for thousands of years is gaining popularity in the west, with scientists conducting studies and testing the beneficial effects of the herb. So let's understand, what is the hype behind Ashwagandha, and does the ancient herb live up to it?
For that, let's understand the benefits of Ashwagandha and the impact it can have on our health. The benefits of Ashwagandha are:
1. Ashwagandha helps reduce stress and anxiety
Ashwagandha tablets are fantastic for combating daily stress and anxiety. The natural herb regulates our body's response to stress as it reduces any hypothalamic, pituitary and adrenal activity in our systems. Ashwagandha, therefore, has a calming effect on our minds and can significantly reduce the stress and anxiety we experience on a daily basis in our modern lives.
2. Ashwagandha enhances athletic performance
Instead of consuming harmful supplements and steroids – you can turn to the ancient herb of Ashwagandha and Ashwagandha supplements to improve your athletic performance. How Ashwagandha works is that it increases VO2 max, which means it increases the amount of oxygen one can consume during an intense workout session. High VO2 max is linked to a healthier heart and lungs which also significantly improve athletic performance and stamina.
3. Ashwagandha boosts testosterone and improves male fertility
Ashwagandha's health benefits include improving male fertility and increased testosterone levels. Taking Ashwagandha regularly increases the body's DHEA-S, a hormone that boosts the production of testosterone in our bodies. The Ayurvedic herb has also been scientifically proven to increase sperm count thereby boosting male fertility. For any man experiencing fertility issues or low testosterone levels, Ashwagandha can prove to be a huge health support.
4. Ashwagandha can improve sleep patterns
Are you struggling to get a good night's sleep? Ashwagandha can help you fall asleep on time and complete a full sleep cycle, which in turn improves your overall health. Ashwagandha brings the body to a relaxed and calm state which not only improves your sleep cycle at night but also keeps your mind alert and focused when awake. Ashwagandha has been proven to improve the sleep quality of those who take its supplement regularly.
5. Ashwagandha for healthy hair
One of Ashwagandha's many benefits is that the consumption of it can lead to long, lustrous hair. Ashwagandha can improve hair texture and hair length when consumed regularly.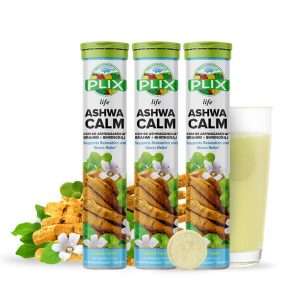 With its plethora of benefits, Ashwagandha is clearly a herb which lives up to its hype. However, it is important to consume Ashwagandha in a safe manner. Asha Calm by Plix is an easy to consume and safe Ashwagandha supplement. The tangy effervescent Ashwa tablets are delicious and provide all the goodness of Ayurveda. Add two tablets in a glass of cold water, let it fizz and you are good to go!
Ashwa Calm is designed to reduce your daily stress levels and improve your libido. It is clinically proven with gold standard strides to improve your testosterone, energy levels, sperm count and brain power. It is enhanced with Brahmi and Bhringraj which help in enhancing your mood and improving your sleep patterns.
So, what are you still waiting for? Order yours today!