5 Ways To Build Lean Muscle with Plix's Mass Gainer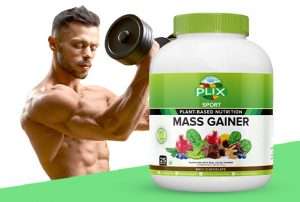 The amazing physique of Bollywood celebrities is something to be envious of. Most of us work hard in the gym to attain the same lean yet muscular physique, but naturally find it difficult to gain muscle mass. This is where Plix's Mass Gainer comes in.
Plix Life's ultimate plant-based Mass Gainer is made of natural carbohydrates, plant protein, fruits, veggies, and healthy fats. Every morning, make use of the mass gainer powder along with the below-mentioned five tips and you will be sporting the physique of your dreams in no time.
1. Opt For A Healthy Diet Plan
Being healthy plays a major role in transforming your physique. A chiseled body is the result of 80% healthy eating and 20% calorie burning. Here, the most important nutrient that you must consume is protein. Plix's muscle mass gainer will help you with 20 gm of quality pea protein that aids weight gain and muscle growth, allowing you to achieve your dreams faster.
2. Strength Training Is Must
We don't have to tell you about the importance of hitting the gym. But, make sure you give equal importance to strength training as you do to cardio. Why? Because, it can enhance the muscle and protein synthesis in the body, which is a necessary component to build lean muscle. It also boosts the production of growth hormones in the body, which leads to muscle growth. You can always drink your Plix best mass gainer supplement before you hit the gym too because of the protein content it offers.
3. Choose High-Intensity Workouts
When you go for high-intensity workouts, you amp up your metabolism rate, which means you burn more fat, which in turn leads to muscle growth. Some of the best high-intensity workouts include running, rowing, jumping rope, and jogging.
4. Warm-Up Routine
When you exercise, there is a breakdown of the connective tissues that transform into muscle fibers when they are recovering. However, without a proper warm-up, you can seriously injure your muscles. Therefore, have a proper warm-up routine before you begin your workout.
5. Rest Well
Just like regular workouts, diet, and best muscle mass gainer supplements are important, you also need a good night's sleep to ensure your body is able to recover from all the wear and tear the muscles and the tissues have gone through. Plix's vegan mass gainer also helps you with muscle recovery. It helps you overcome any muscle fatigue, soreness and ensures you recover faster.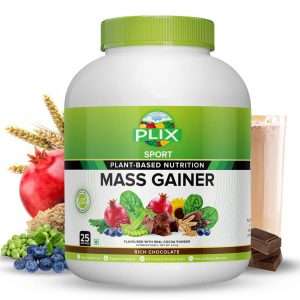 These are our tips on how you can build lean muscle with Plix's mass gainer. Follow these steps and you are good to go. Regularly taking Plix's plant-based mass gainer will help you see a major difference in just four months. And if you are worried about taste, don't be. This vegan weight gainer comes in a delectable chocolate flavor and has zero added sugar. Superb, isn't it? So hurry up and order yours today. A chiseled physique is just a click away.