Tablets You Should Have For A Healthy Routine
We all want to be our healthiest selves, and know that supplementing Vitamins daily is important to reach that goal.
Today, with so many vitamins and mineral tablet options available, the task of deciding what you should take everyday can be daunting.
Vitamin A? Vitamin D? Vitamin C? What do I need to supplement daily to  promote my health and well-being?
At Plix, we say look for the answers in nature. Our range of health products at Plix Life are made from all-natural ingredients and are formulated to enable you to reach your health goals effectively. With a range of products that are formulated from superfoods celebrated worldwide such as Apple Cider Vinegar to those that find their roots in ancient Ayurveda such as Ashwagandha, our product mix is designed to uplift health naturally.
Here are two products made from natural ingredients that we recommend incorporating into your everyday routine to lead a healthy and well nourished life:
1. Plix Life's Apple Cider Effervescent
Apple Cider Vinegar is made from fermented apple juice. It is popular for aiding the body in a multitude of ways from aiding digestion, better skin to preventing heart disease. Apple Cider Vinegar's mother ingredient is considered acetic acid. Due to the acidic nature, it is not only difficult to consume because of a pungent smell and taste, it can also cause damage to the internal organs if consumed incorrectly. However Plix has developed a safe and effective way for you to consume Apple Cider Vinegar.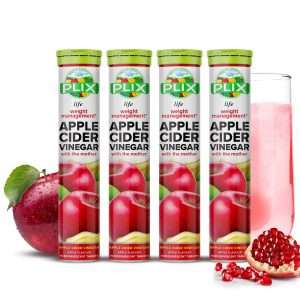 Made from the goodness of superfood Apple Cider Vinegar, Plix Life's Apple Cider Effervescent made with the mother are a fantastic daily supplement. It has been fortified with Vitamin B12 and B6 for healthy blood cells and to boost metabolism.
Easy to consume, it comes loaded with all the benefits of Apple Cider Vinegar including:
High energy
Boosted metabolism
Good mood
Minimized cholesterol
Managed insulin levels
Reduces your appetite
Weight loss
Improved skin health
2. Plix Life's Ashwa Calm
In the modern world we are constantly bombarded with stress and anxiety which become a stepping stone for major diseases in the long term. Another tablet that you should consume daily for a healthy routine is Ashwa Calm. While Ashwagandha, an ancient Ayurvedic herb is gaining major traction across the world today, it has been promoting good health in India for over 5000 years.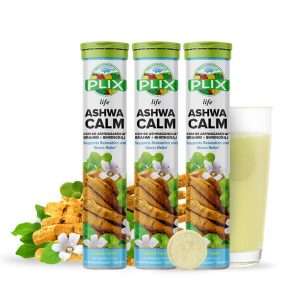 Ashwagandha Calm tablets are good for men and women alike. They promote brain functionality, keep stress at bay and promote sexual health that is vital to life. For men, they boost sperm count and increase testosterone levels. For women, they act as a natural aphrodisiac which in turn boost female fertility.
Benefits of Ashwagandha include:
Relieves stress and anxiety
Boosts brain functionality
Enhances memory and concentration
Boost sexual drive and functionality
Improves sperm count in men
Improves mood
Plix Life's Ashwa Calm is made from the power packed Ashwagandha and is enriched with other natural ingredients such as:
Brahmi extract keeps blood pressure levels in check, improves the mood, balances cortisol and stimulates brain function. It also alleviates stress.
Bhringraj has high levels of antioxidants and flavonoids that enhance your memory and concentration. It keeps you calm and alert, while boosting your problem-solving skills.
At Plix, our daily effervescents are easy to consume and can boost holistic health internally over time. In the modern world, keep your body and mind in control and optimal health with Plix Life's Apple Cider Effervescent & Plix's Ashwa Calm.