LEAN GREEN BREAKFAST SMOOTHIE (HIGH IN ANTIOXIDANTS)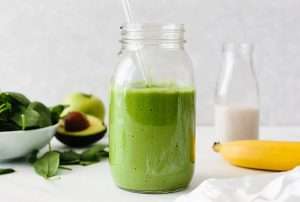 A great way to start your day is by sipping on a healthy green smoothie. Here is our favorite recipe of an alkalizing green smoothie that provides enough carbohydrates, proteins and fats to get you through the morning. If you don't have a well-stocked inventory of green vegetables and fruits then simply add a couple of scoops of our Organic Nourish Supergreens powder to your smoothie. It will give you the much needed immunity and antioxidant shield to power through the day.
Nutritional Facts (approximate)
110 calories
4 grams of protein
27.6 grams of carbohydrates
13.2 grams of fat
Ingredients
Instructions
Add all ingredients to a blender and blend until smooth
Enjoy!