The Ultimate Guide to Chocolate Peanut Butter Recipes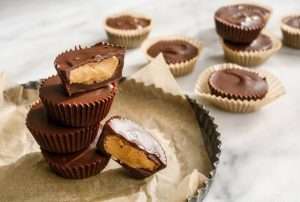 Delicious creamy crunchy peanut butter is popular across the globe. Right from using it in recipes to sandwiches, it is a versatile product. Sometimes, even when you are craving some dessert, a scoop full of chocolate peanut butter simply tastes heavenly. And the best part is that there is a myriad of peanut butter benefits, such as weight loss, a healthy heart, lowered risk of diabetes and more. Peanut butter in chocolate flavour is rich in antioxidant resveratrol. This amazing antioxidant reduces the risks of heart disease and cancer and also fights free radicals. So today, we bring you the ultimate guide to chocolate peanut butter recipes and tell you how it can be beneficial for you.
Is peanut butter good with chocolate?
Chocolate peanut butter can be good for you when the chocolate used is dark and there are no artificial sweeteners or sugar used. Otherwise, the sugar outweighs all the good and can lead to more weight gain. Therefore, one must always take a look at the ingredients before making the purchase.
Is chocolate peanut butter good for weight loss?
Is peanut butter good for weight loss? Yes, as long as there is no added sugar in it. Peanut butter tends to offer protein, which keeps your body fuller for longer. This curbs your appetite and prevents you from binge eating.
Is there chocolate peanut butter?
Yes, chocolate goes very well with peanut butter and if you want to make your peanut butter you can add chocolate. However, if you are trying to lose weight, it is important to use unsweetened dark chocolate. But, instead of going through all these hassles, you can try Plix Life's High Protein Chocolate Peanut Butter with Moringa and Sea Salt (1kg). This wondrous product is made of;
Roasted Peanuts – They are made with high-quality roasted peanuts and they support blood cholesterol.
Himalayan Salt – Himalayan salt is not only good for health but also enhances the flavour of chocolate peanut butter, making it all the more delicious.
Moringa – Did you know, Moringa is known as the 'miracle tree?' This is because of the variety of health benefits it offers!
It is a high-protein chocolate peanut butter with moringa and sea salt that tastes delicious. Some of the benefits it offers are;
Rich in protein – It offers you high protein to meet your daily protein intake requirement and it also supports weight loss by preventing you from binge eating

Good for the heart – The creamy chocolate peanut butter spread supports optimal cholesterol levels

Keeps you energetic – If you have been feeling low on energy, Plix's peanut butter can be excellent for you.
It is made of all-natural products, which are also vegan-friendly. In just one month, you will notice a difference in your energy levels. You will be able to give your best and your mood will also have improved. It is a great snack that you can consume with a slice of toast or even crackers. You can use it to make your own Nutri bars or have it with smoothies and more.
You can easily use Plix Life's High Protein Chocolate Peanut Butter with Moringa and Sea Salt every day to enhance your health benefits. However, just make sure you take the mentioned dosage. 1 scoop of peanut butter is all you need. It is also a gluten-free product and 1 scoop contains 189.24 calories only.
Peanut butter is an excellent product as it is not only good for your overall health but it also helps you lose some weight. Try it today for wonderful results!