Is Biotin Effective For Hair When Taken Or Used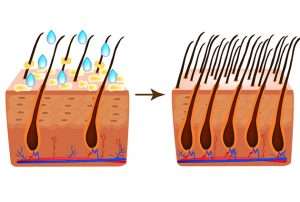 Biotin is a part of the vitamin B-complex cluster and is an essential vitamin for strong and healthy hair. The main function of biotin is to produce energy by breaking down the food substances like fats and carbohydrates. Many foods, including eggs, mushrooms, milk, and nuts are rich in biotin. Biotin is also produced by the bacteria present in our large intestine. Usually, you get a sufficient amount of biotin from these two sources. But
Should you consume or use biotin for hair? Let's find out how you must incorporate biotin for hair loss.
What Is Biotin
As aforementioned, biotin or vitamin H or B7 is a part of B vitamins. It is a coenzyme that helps you achieve the beautiful hair of your dreams. However, biotin's main job is to convert food into energy. The word 'biotin' comes from the word 'biotos,' which is a Greek word.
Why Your Body Needs Biotin
Biotin supports several enzymes to help break down substances like fats, proteins, and carbohydrates and convert them into energy. However, the main process in which biotin is involved includes;
Gluconeogenesis: This process is nothing but a synthesis of glucose from other elements excluding carbs. This includes amino acids. Here, you need biotin to start the process.
Fatty Acid Synthesis: Biotin along with other enzymes plays a very important role in the production of fatty acids.
Amino Acid Breakdown: Enzymes that contain biotin are necessary for the metabolic processes of important amino acids
Biotin And Hair Growth
The biotin benefits for hair are many. Biotin can not only aid hair growth, but it can also strengthen your hair and add lustre to it. In fact, according to studies, it was also seen that biotin can help stimulate hair growth in people suffering from alopecia, which is a disease where the patient starts losing their hair with no new hair growth.
To achieve the benefits of biotin for hair, it is important to consume the required amount of biotin every day, which is 30 micrograms.
Is It Effective To Use Biotin-Based Products
Today, you will see that there are shampoos, conditioners, and even hair serums that claim to offer the goodness of biotin. But, can you enjoy the biotin hair benefits with biotin-based products? The answer is no. There is no evidence that backs the claim that biotin-based products can work wonderfully for you.
Are Biotin Supplements Effective For Hair Growth?
Yes. Biotin supplements for hair can be very effective. Some of the advantages of biotin supplements include;
It gives you strong and thick hair
It prevents thinning of hair and hair breakage
It enhances the shine and overall quality of your hair
It promotes healthy hair and scalp because biotin improves the quality of keratin, which is the basic hair protein.
It prevents hair loss
How Fast Will Hair Grow With Biotin
While it takes two to three months for the biotin supplements to start working, once it does, they can help you grow your hair faster. On average, your hair tends to grow between 0.2 to 0.7 inches every month. But after taking biotin, you can see growth up to ½ inch per month. So, if your goal is to grow your hair, biotin supplements can actually help you out.
Are There Any Side Effects Associated With Biotin?
Usually, there are no side effects associated with biotin. However, if you go beyond the recommended dosage, it can lead to digestive issues, skin rashes, and more. Also, pregnant and nursing women should avoid taking biotin supplements without a doctor's consultation.
Which Foods To Consume To Enhance Your Biotin Intake
Some of the foods that are a rich source of biotin include;
Cooked egg: One egg contains 10 micrograms of biotin
Oats: One cup of oats contains 7.5 micrograms of biotin
White mushrooms: ½ cup of mushrooms contains 5.6 micrograms of biotin
Spinach: 1 serving of spinach contains 0.5 micrograms of biotin
Cheese, brie: One ounce contains 0.4 micrograms of biotin
Milk: One glass of milk contains 0.3 micrograms of biotin
Pork: One serving of pork contains 3.8 micrograms of biotin
Carrot: One serving of carrot contains 6.22 micrograms of biotin
Apple: 1 apple contains 0.2 micrograms of biotin
Tomato: 1 tomato contains 7.4 micrograms of biotin
Does Biotin Help Prevent Hair Loss?
When you take biotin-rich food or biotin supplements, it stimulates keratin production in the hair and enhances your follicle growth. And it also becomes important for you to consume biotin every day because it doesn't get stored in your body. Along with biotin, you also need vitamin E, omega-3, and omega-6 fatty acids.
What Are The Benefits Of Biotin For Hair And How Does It Help?
Now you know the answer to 'is biotin good for hair?' So, let's take a look at all the benefits it brings you and how it actually helps.
1. Biotin Makes Hair Stronger
Biotin nourishes your hair follicles, which are necessary for healthy growth and strength.
2. Makes Your Scalp Healthy
If you are someone who is suffering from problems with the scalp, such as itching or oily scalp, taking biotin improves the blood circulation to the scalp. This nourishes the scalp and helps you get rid of any scalp problems you may be suffering from.
3. Increases The Length
So, if you are someone who has always dreamt of long hair, biotin can help you grow the length of your hair.
4. Helps Get Rid of Fight Thinning And Breakage
Biotin helps revitalize the hair and offers the right nourishment, which can prevent hair loss, thinning hair, and breakage.
5. Helps With Split Ends
When you start using a biotin supplement, it gives your scalp the nourishment you need. It also soothes the structure of the hair and the follicles. This finally helps improve the texture and quality of your hair.
6. Along With Biotin, Other Tips For Healthy Hair
Once you start taking biotin, you must ensure you follow the below tips for optimal hair health. This includes;
Eat healthily: It is essential to consume lots of fruits and vegetables on a daily basis
Good lifestyle choices: If you have a habit of smoking or consuming too much alcohol, you must quit as it can interfere with your hair health
Oily hair: If you are someone with oily hair, it is important to wash your hair frequently
Chemical-free products: Always use the right products for your health and steer clear from anything that is chemically-infused
Concentrate on the scalp: When you are washing your hair, don't shampoo the entire length of the hair but merely concentrate on the scalp
Chemically treated hair: If your hair is chemically treated, such as if you have coloured your hair, it is important to refrain from washing your hair too frequently
Condition your hair: Always use the right conditioner after you finish shampooing your hair
Protect your hair: Whenever you are going swimming or stepping out in the sun, it is important to protect your hair
Heat: Try to avoid using dryers or straighteners on your hair as they can have a damaging effect
Does biotin help in hair growth?
Yes. But now you know that to use biotin for hair growth, using biotin-based products will not help you. Biotin-based products will only enhance the overall look of your hair, just like any other serum. But to actually aid growth and make your hair super healthy, you need biotin to work from within, hence biotin supplements can do wonders for the health of your hair.
If you are looking for a vegan biotin supplement that can fulfil all your hair dreams, you cannot go wrong with Plix Life's Flaunt Your Hair – World's First Biotin Effervescent With 500,000 mcg Sesbania (Natural Biotin). This wondrous biotin supplement comes with the goodness of 50,0000 Mcg Sesbania, Amino Acids, Selenium, and 20,000 Mcg Bamboo Shoot Extract.
To use Plix Life's biotin supplement, just take the fizzy tablet and drop it in a glass of water and gulp it down. Its tasty orange burst flavour is truly refreshing. You can consume 1-2 tablets in a day and within a month, you will notice the results. You will see a significant reduction in hair loss and your hair will start to feel healthier than before and by the third month, you will have achieved the hair of your dreams.
Try it today!
FAQs
1. Can biotin Plix Life make my skin glow?
Apart from biotin for hair benefit, Plix Life's Flaunt Your Hair – World's First Biotin Effervescent With 500,000 mcg Sesbania (Natural Biotin) can also help keep your skin and nails healthy. If you are someone who is suffering from brittle nails or dry and dull skin, biotin can help you out. Biotin aids the production of fatty acids. This helps hydrate and moisturize your keep, making it glowing and radiant.
2. When will I notice the results of biotin?
Once you start taking the biotin supplements, you must at least wait for 3-4 months for the results to show. Patience is the key here. The results can also be seen sooner than later depending on the type of supplement you are using and the brand. However, don't ingest more than the recommended dose for faster results as it will not help.
3. Does biotin increase facial hair in females?
No, biotin doesn't increase facial hair in women. But in products that promise a boost in beard growth in men, biotin acts as a main ingredient. However, it is blended with other important elements that help with beard growth. So, using biotin supplements that are targeted toward hair growth will not lead to an increase in facial hair in females.
4. Are there any foods to avoid that can lead to hair loss?
Yes, you must avoid the below-mentioned food to avoid hair loss. They are;
Too much of Nuts
Swordfish
Dairy
Sugar
Refined Carbs
Greasy Food
Carbonated Drinks
Alcohol
5. Is biotin and B12 the same?
No, biotin and B12 are not the same. However, they belong to the same cluster of B-complexes. Biotin is also known as B7 and this vitamin supports the health of your hair and nails, and if you are experiencing B12 deficiency, it can cause anaemia.
6. Can take both Plix Life biotin and collagen supplements?
Yes, it is completely okay to take both Plix Life's Flaunt Your Hair – World's First Biotin Effervescent With 500,000 mcg Sesbania (Natural Biotin) and collagen supplements together. In some cases, they may even work together to offer great hair, nail, and skin benefits.