Chia seeds for a slimmer body? A myth or a fact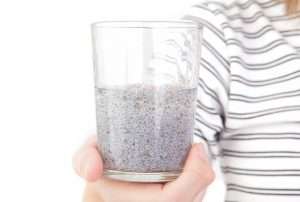 Weight loss diets or supplements have always been the talk of the hour for the longest time now. And let's just admit it, having a fit, and an attractive look is something anyone would desire and is probably the most humane thing to consider.
But talking of it, have you not always heard about those difficult keto diets? Or those super expensive supplements that not just drain your body physically but also take a toll on your pocket.
What if we told you today that we have got something that will help you boost your weight loss process and also serve your tastebuds with some authentic yummy delicacies. Sounds bizarre? Read through to find out we're not really bluffing (we swear)
What are these tiny magical seeds like?
So basically, chia seeds are one of those superfoods that all your weight loss process is super-rich in fibres, proteins, omega-3, and many other vitamins like iron, calcium, magnesium, and zinc too!
They not just give your tummy a feeling of fullness but also help you perhaps cut down on a meal replacing the high caloric food by reducing your appetite. We call them magic seeds because when they are soaked in water, they swell up to double their size, and they help enormously in regulating and cutting down body fat.
Chia seeds are a weight-loss hack because they are tasteless and full of benefits and can be consumed in innumerable ways, and we can thus sit back and wait for its magic to happen!
Why would you believe that it can actually cut down kilos?
Well, let's start here with facts. A couple of tablespoons of chia seeds have an ounce of dietary fibre, capable of cutting down the excess fat that you are working hard to get rid of and probably helping you fit that smaller fit of the perfect dress you're dying to fit in.
Chia seeds also have a calorific value that can be added accurately for the meals, which would also be considered one of those foods that would aid the digestion process, have zero dates, and are filling too. And as we know already, fibrous food is the catch for anyone trying to lose weight.
Apart from this, it also has an antioxidant effect that would obviously help your body flush down the toxins, which would contribute to accelerating your weight loss process with chia seeds.
But it should always be consumed in required or minimal amounts only as an excess of it can lead to an anti effect that we expect for weight loss from chia seeds.
Some easy yet drool-worthy chia seeds weight loss recipes to try
If you are trying to use chia seeds for weight loss, know that you have PLENTY options to consume them and top your foods with them.
A banana or a strawberry or perhaps any fruit's smoothie, when topped up with a handful of soaked chia seeds, it adds a visual temptation as well as a slime yet crunchie effect to it.
The other option is to sprinkle some soaked or unsoaked chia with your early morning oatmeal or your mid-day meal salads or some baked muffins or puddings that you may want to eat to curb your sugar craving ( but with a healthier twist to it)
Consider having it on the yoghurt bowl for your evening snack, or sprinkle some on your sandwich for dinner! ( or perhaps a nighttime cheat meal, too :p)
Summary
Summarising the innumerable benefits of such a power-packed superfood looks quite a task. But by far, since you know how immensely beneficial they are, make sure you get some for yourself and avail yourself of the benefits of chia seeds, whether weight loss is your goal or mere fitness is!
We bet you won't be disappointed with its benefits and would probably make a notion that chia seeds for weight loss are not just a simple myth but a confirmed indisputable fact!