Benefits of Using Apple Cider Vinegar for Hair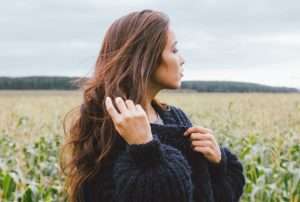 With the onset of winter and the unfortunate arrival of itchy scalps and hair fall – here comes a superfood that can fix all your hair troubles.
Vinegar has been a daily household secret for almost anything, ranging from cooking to multiple health benefits. One of the most common types of vinegar used as a panacea by a lot of people is Apple Cider Vinegar.
Made from fermented apple juice, Apple Cider Vinegar helps with not just weight loss, skin care, and heart health but also hair problems.
Research shows that the acetic acid found in ACV is what makes it a holy grail for most health issues. In general, vinegar contains a chemical called polyphenol which can help stop cell damage.
When it comes to hair care, ACV has been known to help fix almost any issue from itchy scalps, dandruff, and hair loss to hair growth, breakage, and split end.
Why Is Apple Cider Vinegar Used for Hair Care So Often?
While ACV remains under research, there are some obvious scientific benefits that we gain from it. Here are just a few reasons why ACV is so reliable:
1. Effective Germicide: ACV has been used as a common home disinfectant for centuries. Apart from that, it has also been proven to have antimicrobial properties that kill off bacteria and fungi effectively reducing itchiness and dandruff.
2. Acetic Acid and pH Levels: Apple Cider Vinegar, like any other vinegar, is acidic at its core. ACV contains a lot of acetic acids that help balance out the pH levels of your scalp. Frizzy, dry, and dull hair has been shown to have alkaline properties that can easily be balanced out by ACV. Simply put, the acetic acid in ACV restores and nurses your hair back to health.
3. Vitamins and Minerals: ACV is full of potassium, Vitamin B6, Vitamin C, and Vitamin B. All of these put together with its anti-inflammatory properties help nourish and restore the health of your hair.
Looking at all these properties, we can see why people use this particular superfood in their hair care routines.
Using Apple Cider Vinegar For Hair Growth
Making use of Apple Cider Vinegar for hair growth has been a tradition over the years, the reason why ACV helps with hair growth is the variety of nutrients it carries.
Potassium and Vitamin B being dominant in their composition help in smoother blood circulation on your scalp resulting in better hair growth.
Though ACV isn't a cure-all, it helps in maintaining the overall health of your hair which in turn stimulates hair growth.
Using Apple Cider Vinegar For Hair Loss
Adding Apple Cider Vinegar for hair loss into your hair care routine can put an end to breakage and split ends.
ACV is known to close our hair cuticles which results in shinier and more voluminous hair.
This same property along with its pH levels also helps control breakage and split ends by restoring acidity in your hair follicles.
It also has detangling properties that minimize hair breakage along with split ends.
Apple Cider Vinegar for hair benefits hair cuticles by smoothening them and subsequently causing less breakage and preventing split ends.
Also Read: When To Drink Apple Cider Vinegar?
ACV Reduces Frizziness and Dandruff
Frizziness is the direct result of an unbalanced pH level on your scalp.
When your scalp tends to be more alkaline than its natural state, frizziness is the most common indicator, however, you can balance it out with the acetic acid that ACV contains.
It acts as a natural stabilizer that restores shine and combats frizziness.
When it comes to dandruff, ACV serves its purpose as an anti-microbial warding off excess yeast and another fungus in turn clearing out dandruff flakes.
Dandruff on your scalp is a sign of excess yeast production on an oily scalp. ACV also uses its anti-inflammatory properties to lower the levels of yeast on the scalp.
Avoiding Oily Hair by Using ACV
An oily scalp is the most common hair problem most people face, however using products specifically targeted at this problem can sometimes strip your scalp of essential oils it requires to maintain healthy hair.
Apple Cider Vinegar is an effective agent to remove excess oil while still maintaining and preserving the essential natural oils your scalp needs.
Overall Health Of Your Hair Can Be Maintained by ACV
If you're one of the lucky ones and face no hair issues as such, Apple Cider Vinegar can still be your friend.
ACV isn't just a hair fix, it also helps you maintain your hair and its health.
If you don't face any issues and want to keep it that way – Apple Cider Vinegar can help you simply retain the strength, shine, and volume of your hair.
Constant use of products, serums, and hair tools can damage the texture of your hair but adding ACV to your hair care routine can minimize these effects while maintaining the natural texture of your hair.
The alpha-hydroxy acids that ACV contains smoothens hair strands and exfoliates the scalp by removing product build-up and dead skin cells.
How To Use Apple Cider Vinegar For Hair Care
Traditionally used in its liquid form, ACV can be made into a hair mask, a rinse solution or even a detangling solution.
Those methods, however, require a lot of DIY skills and can take some time to make and apply.
The Plix Apple Cider Vinegar is a one-of-a-kind effervescent formula that makes it super easy to use, without any hassle.
All you need to do is take one tablet and drop it in a glass of water, let it fizz and dissolve completely and then just drink it. One tablet of the Plix Apple Cider Vinegar is as good as a shot of liquid ACV.
You can take two tablets every day before meals to have stronger and shinier hair, avoid breakage and split ends, clean your scalp, and maintain your hair.
All of the ACV benefits in one tablet, without any tutorials or trouble.
So, does it help?
Overall, Apple Cider Vinegar is one of the most useful ingredients for the health of your hair. It may not be a proven "cure-all," but its results won't fail you.
Research also suggests that this could be the one ingredient that can help control a lot of hair damage issues.
So, if you've always been curious about Apple Cider Vinegar and its hair care benefits – you should definitely give it a try!
You can also buy our Apple Cider Vinegar Tablet from Amazon here: