What does collagen powder do for you?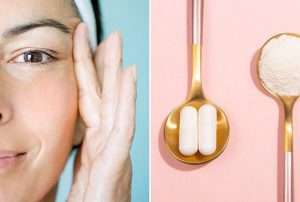 Today, collagen powder has gained worldwide popularity. Right from Instagram influencers to beauty gurus swear by all the collagen benefits for the skin. It is also easy to consume as you can mix it with your smoothie or even coffee or morning chai for its daily dose. But what exactly is collagen? What does it do for you? Let's find out!
What does collagen powder do for you?
Before we tell you all the benefits of collagen powder, let's understand what is collagen. Collagen is a structural protein that's necessary for your cells and tissues. While our body produces collagen, it starts depleting as we start to age. Hence, it becomes important to take collagen supplements to ensure the structural support continues. Collagen is responsible for;
Tissue repair

Immune response

Cellular communication

Cellular migration
Collagen is an important protein for the skin, hair, bones and more. Some of the collagen uses are;
It improves your skin health and gets rid of all signs of ageing to a great extent

It is good for joint pain relief and prevents bone loss

It gives you healthy voluminous hair

Collagen can boost muscle mass and aid heart health

It gives you healthy and strong nails

It takes care of your gut health

It promotes weight loss
When you take the supplements regularly, these are some of the main collagen benefits that you can enjoy.
Do collagen powders actually work?
Yes, when you choose the right brand, collagen powders work. There have been studies that show taking collagen powder regularly can improve skin elasticity and signs of ageing. The collagen benefits for the face occur just in a month or two of using the supplement. When you take collagen, it aids the production levels of collagen in the body and helps improve hydration and the overall appearance of the skin.
Is it OK to take collagen powder every day?
Yes, you must take collagen powder every day for all the benefits. Only when you take it regularly for 3-4 months will you notice significant effects. And if you are someone who is taking collagen powder to fight the signs of ageing, it is important that you continue taking the supplement. Because when you stop, the production of collagen goes down in the body and this can lead to the signs of ageing re-appearing.
This is why it is important to take natural collagen supplements, such as Plix Life Whole Food Collagen Builder. Since it is made with 100% natural and vegan ingredients, there are no side effects attached to the product and you can take it every day with ease, without any worries.
Can collagen affect the menstrual cycle?
No, collagen does not affect the hormones or the menstrual cycle. Collagen is made of three main amino acids- proline, glycine, and hydroxyproline. While your body does produce them, it is not enough. So, when you take the supplement, it benefits your overall health.
If you are looking for the best collagen supplement to support you, try Plix Life Whole Food Collagen Builder. It is made with natural ingredients, such as hyaluronic acid, vitamin C, sea buckthorn, amino acids and bamboo shoots. When you start taking the supplement, you will notice an improvement in just one month.
The hyaluronic acid takes effect and your skin becomes optimally hydrated. Hence, it looks more supple and plump and ensures a smoother appearance. By the second month, the process of skin regeneration takes place. And finally, by the third month, you will notice the signs of ageing bidding you goodbye.
The supplement by Plix is absolutely easy to consume. It comes in three delectable flavours, which include, rose, orange burst, and watermelon. All you have to do is mix it in a glass of water, give it a good mix and gulp it down. Unlike other collagen powder, since it tastes so delicious, it becomes easier to consume every day.
Finally, Plix's collagen powder is also extremely beneficial when it comes to preventing sun damage visible on the skin and also protects you from any further UV damage. So, try it today to achieve the skin of your dreams!