Rich Avocado Protein Smoothie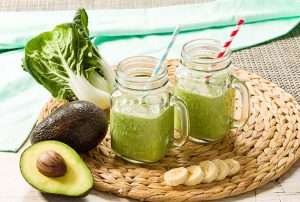 Looking for a strong punch of rich vegan protein in your smoothie? Then start your day with a deliciously smooth and creamy banana avocado smoothie. It is rich in protein, carbohydrates and provides a good amount of dietary fibre making it great as a pre or post workout drink and even as a meal replacer. For an additional nutritional boost we recommend adding a sachet of Protein ELIXIR. It will not only give you 21 grams of protein but all the supergreens you need and also antioxidants and vitamins to boost your energy levels and keep you healthy through the day.
Nutritional Facts (approximate)
225 calories
21 grams of protein
27.2 grams of carbohydrates
13.2 grams of fat
Ingredients
½ avocado
1 cup coconut milk
3 ice cubes
½ frozen banana
½ tsp vanilla extract
1 serving ELIXIR Plant Protein (Chocolate Flavor)
Instructions
Add all ingredients to a blender and blend until smooth
Add 1 serving of ELIXIR Plant Protein to the blender and blend.
Enjoy!