Is there a good hair serum for women whose hair is smooth?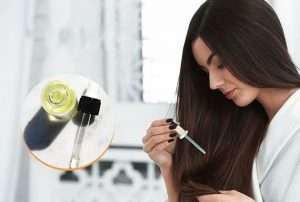 Is Hair Serum For Women Necessary?
The layer of each hair strand is coated with this incredibly rapid and delightful hairstyle product. Why I hear you ask? to reduce hair frizz and preserve your hair from all of the bad things like pollution, dust, filth, and sun exposure. Your hair will stay lustrous and smooth the whole day long with the help of a silicone-based liquid procedure known as a hair serum for women. The shiny, protective coating bounces the light, giving your hair its bright appearance. Do not mistake it for your ordinary hair oil, though. It's a hair improvement! Serums function on the surface, whilst oils work deeper into the scalp and feed it. Both dry and wet hair can be styled using the serum for hair, and it can also be utilized as a finishing touch. It helps your hair look its best on washing days, somewhere between washes, and even while you're on the road!
The realm of hair serum exists! Serum for hair isn't all used to control frizz and unmanageable hair. Many work to maintain your hair straight whereas others provide considerable bounce to your curls. It can also be used to reduce hair fall, hair thinning, or even baldness. Plix's Hair Growth serum is made from award-winning ingredients like Anagain, Redensyl, and Baicapil which provide you with effective and long-lasting results. When using the ideal serum for a particular type of hair, one can handle a variety of issues with the hair, such as enhancing shine, detangling, and preserving the hair against degradation.
Do you have questions about how and when to apply serum to hair? Before that, we want to share with you something exceptional. We are aware that you are searching for a serum for hair that tackles your hair problems among the plethora of advantages available. Stop looking at Google since we have the solutions! The top advantages of serum for hair are listed below.
Serum For Hair Benefits
Let's Get Those Frizzy Flyers Under Control!
The capability of serum for hair to manage frizz and smooth out dry, unruly hair is among its significant perks. It gives your strands additional glitz by rendering them simpler to maintain. Feel photogenic with hair goals while you're out & around! serum for hair preserves your hair healthily by preventing the environment's dampness. In what way does serum for hair generate the protective barrier? Just two simple actions! Pour Give a couple of drops of serum to your fingertips and rub them together. Apply and massage it lightly from over frizzy regions you would really like to tame.
After pouring the serum, wait before applying it. The serum warms up more quickly after rubbing. This should improve performance, speed up processing, and give the product a smooth, uniform finish.
Time To Bring Back The Shine
It is indeed time to restore your luster with something like a serum for hair that gives off a shimmer. Do you recall how everybody would comment on your beautiful, silky hair? Prepare to start serving a few more platters of looks! Serum for hair gives your locks a shiny crystal appearance and provides the appearance that your strands are shining and sleek. The substances in the serum assist reflect the light, giving your hair a shinier appearance. Isn't that exquisite?
Applying the serum straight to your scalp could make your hair look oily, so avoid doing so.
Escape The Tangles And Troubles
It is less probable for your hair to twist or coil when it has been neatly styled and into position. This refers once more to serum for hair. As you flaunt your beautiful hair to the public, it prevents your hair from interlacing or curling! Take one hairstyle from breakfast to supper and don't mess it up! Exactly, it seems like a daydream. The serum for hair simplifies the process for you to brush, maintain, fashion, and even slaying if your hair is naturally unmanageable and rebellious.
Don't be fooled by the phrase; using "far too much serum for hair" can really leave you looking oily. Start out modest and add additional work later. Always keep in mind that little is more.
Let Fine Things Look Fantastic!
Whatever your hair type, using a hair serum will always make it look its finest! Serum for hair has been shown to be effective for everyone! Your hair type which might be straighter, wavy, curly, or mixed is determined by the line or shape of your hair. For any and all kinds of hair, there seems to be numerous serum for hair options.
Straight Hair Requirements:
If you've got straight hair, pick a good serum that improves the suppleness or smoothness of your strands. When the hair is long, thick, and feeling as smooth as satin, it looks wonderful!
Utilize a serum that is the finest for your hairstyle to bring out your elegant personality.
Wavy Hair Needs:
Choose a serum that makes curly hair appear straighter and much more lustrous. Let's all admit that beach waves are stunning, however, one can only get there if they have the appropriate serum for hair in the hair care kit!
Curly Hair Requirements: Pick a nice serum for hair that helps the curls dance if you have curly hair. The curly girl craze is taking over the Web! Now that you've found the ideal serum for hair for women of your type, it's time to give up restraining your free spirit and flaunt those seriously beautiful locks to the audience. Avoid becoming pennywise when there are several wise folks around! Pick the option that best suits you!
Hair Damage, Whaaat?
You wouldn't even notice that you have damaged hair if you had the correct serum for hair advantages on your team!
The capacity of serum for hair to shield your strands from environmental damage is one of its major perks. The following factors could be one or several of the causes of this impairment:
Heat impact (Heated styling tools like straightening irons and blow dryers)

Chemical processing damage (including perming, dyeing, and persistent straightening processes)

Strain and environmental destruction (sun damage, environmental pollution, and dust)

Mechanical harm (due to frequent styling of hair)
Therefore to lessen its impact and maintain the condition of your hair, several hair serums assist in forming a protective barrier between both the hair strand as well as the damage-inducer. They are referred to as Heat Protectants. They can be used just prior to employing heat-styling equipment.
Frequently Asked Questions
1. Does serum encourage hair growth?
The follicles can be stimulated by serum for hair to produce additional hair. Certain hair serums work by making individual hair strands grow longer and denser, offering you the illusion of having a thick, head of hair. Some may even promote hair growth in places of baldness wherever you currently lack hair.
2. What outcomes are possible with the Hair Growth Serum?
The product should result in reduced hair fall and thicker, stronger, sturdier hair. The serum's potent combination can combat a receding hailine.
3. How will the Hair Growth Serum function?
A number of factors, including stress, UV damage, hormone imbalance, inflammation, and others, affect the quality of the hair. To assist you to battle the negative effects these variables have on hair growth, our recipe combines strong substances that work in unison to provide better and more effective results.
4. How and when should I apply hair serum?
Serums shall indeed be applied to clean, recently washed hair to allow for them to operate as effectively as possible. It can serve as a barrier towards muck in your area in this manner. To maximize the serum's advantages, use it to dampen locks wherever feasible before using any other styling tools.