How biotin can help your Hair Growth
Biotin has become a common over-the-counter supplement over the years. It is touted as a vitamin that can promote stronger, thicker, and healthier hair. Several studies have been conducted to discover what the actual truth is. So, does the biotin vitamin really aid hair growth? This article discusses whether you must include it in your regular diet or not
What Is Biotin?
Also known as vitamin H or B7, Biotin is a vitamin known to stimulate keratin production in the hair and enhance the rate of follicle growth. Biotin is also known to have other benefits and is important for eye, skin, and brain function.
Your hair receives biotin from the food you consume. However, it doesn't get stored in your body for long as it is a water-soluble vitamin, therefore, you will have to eat biotin-rich food or take biotin supplements every day to enjoy its benefits.
How much Biotin do you need?
Children between the ages of 4-6 need 25 mcg per day

Children between the ages of 7-10 need 30 mcg per day

Adults and teenagers need 30-100 mcg per day
Foods that are rich in Biotin
Some of the food products that can help increase biotin in your body include;
Egg yolk: 50 grams of egg yolk and provide 10 mcg of biotin.

Legumes: 28 grams can provide 5 mcg of biotin.

Nuts and seeds: 20 grams of nuts and seeds, such as sunflower seeds and roasted almonds can provide 1.5 to 2.6 mcg of biotin.

Liver: Organ meats, such as liver, are very high in biotin. 75 grams can provide 31 mcg of biotin.

Sweet potato: 125 grams of the vegetable contains 2.4 mcg of biotin.

Mushroom: 120 grams of this nutrient-rich fungi contains 2.6 mcg of biotin.

Banana: A small banana of about 100 grams contains 0.2 mcg of biotin.

Broccoli: 45 grams of the raw broccoli contains 0.4 mcg of biotin.

Avocado: 200 grams of Avocado contain about 1.85 mcg of biotin.
While whole food biotin can offer some amount you need every day, it cannot match the requirements you need on a daily basis. This is one of the reasons why biotin powder or biotin gummies are preferred by most.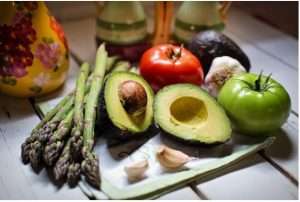 Will Biotin Help Prevent Hair Loss?
In one study that was conducted in the year 2012, women who had thin hair were given biotin supplements with iron and zinc or a placebo for the six months. It was seen that women who took the supplement had a visible increase in hair volume, thickness, and scalp coverage.
Overall, taking biotin hair gummies can help rectify any biotin deficiency you may be suffering from and restore hair growth and health. But, it is seen that with biotin, you will need other minerals like iron and zinc to aid hair health.
If you are looking for biotin supplements that can cure your hair woes, you can choose Plix Life's Whole Food Biotin 10000mcg+ Natural Sesbania For Hair, Skin & Nails. This is a sugar-free product that helps you achieve stronger nails, glowing skin, hair strength, hair thickness, healthy scalp, and more.
Plix Life also brings you biotin gummies in strawberry flavour. These plant-based gummies are exceptional for your health. Easy to use, taking the gummies regularly can give you thick, healthy, and lustrous hair.
So, what are you waiting for? Order your preferred type of Plix Life's biotin supplement and start your healthy hair journey today.