FRESH MANGO BANANA SMOOTHIE (RICH IN CARBS & VITAMINS)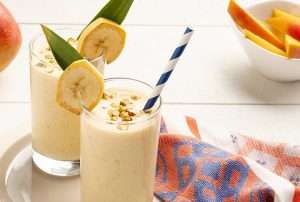 Want to try something fresh and creamy this summer? How about a blend of fresh mangoes with rich vegan yogurt and bananas? Whip this up for a good tasty snack or a cooling dessert accompaniment to a spicy dish. Don't give this one a miss especially since it is a seasonal recipe that is both nutritious and delicious. To make it even better add in a serving of EVOLVE Plant Protein (Vanilla Flavor) for some added protein and antioxidant boost. This will also give you your dosage of B vitamins for the day.
Nutritional Facts (approximate)
198 calories
25 grams of protein
31.4 grams of carbohydrates
1.3 grams of fat
Ingredients
Instructions
Add all ingredients to a blender
Blend until smooth
Enjoy!